Meet Dr. Vanessa Ulloa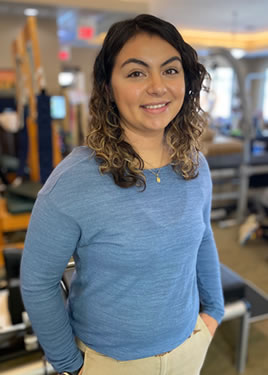 "I love being able to help patients with a conservative natural approach." For Dr. U, it's rewarding to give patients relief, and see the difference chiropractic care can make in their lives.
From Patient to Chiropractor
Dr. U originally started going to a chiropractor because her brother was a bull rider and had some back pain issues from falling. Chiropractic care gave him great results. She decided to seek this same care for her migraines. Thanks to chiropractic, she hasn't had a migraine in over six years!
After being a patient, Dr. U decided to become a chiropractic assistant, and then chose to become a chiropractor! "Chiropractic isn't just my career; it's become my lifestyle." Dr. U ensures she always follows through with healthy living herself, not just in front of patients, but on a daily basis. She's committed to living authentically and giving patients advice that she would take herself.
Chiropractic Education
Dr. U earned her Doctor of Chiropractic from Palmer College of Chiropractic, the first chiropractic school in the world. She's also certified in the Torque Release Technique (TRT), which is a gentle style of instrument adjusting for those concerned they'll experience cracking, twisting, or popping. TRT allows her to provide a very specific adjustment. This method is ideal for seniors and infants, and those afraid of having their neck adjusted.
Taking the Time to Listen
Patients appreciate that Dr. U takes the time to listen to them at every visit about what's going on with their health. She also seeks to get to the root cause of their issue, instead of providing a bandage solution, and will provide customized care that gets the best possible results.
Outside the Practice
When she's not at the practice, Dr. U enjoys trying new places and foods, biking, hiking, staying active, and exploring new areas. She comes from a big family and spends a lot of time with her extended family, who live in the Chicago area. Dr. U is also bilingual, speaking English and Spanish.
Book an Appointment
Contact us today to schedule an appointment with Dr. U!

Dr. Vanessa Ulloa | (574) 679-0100